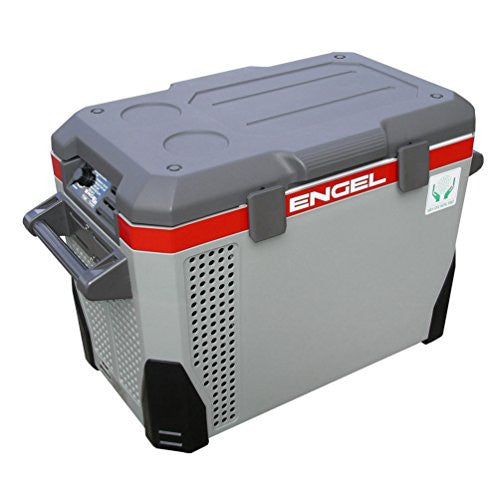 Fridge/ Freezer (AC/DC), 40 Qt Marine Engel MR040F-U1
ATA INTL, CORP
Regular price $1,090.00 $849.00 Sale
Brand: Engel
Color: Grey
Features:
Portable top-opening 12/24V DC - 110V/120V AC fridge-freezer
Solar compatible - Highly efficient Engel swing motor - low Amp draws (even at start-up)
Highly efficient, it typically draws around 1 to 2 amps per hour
Ul approved - 100% cfc-free compressor
Comes with both AC and DC cords
Manufacturer Parts Warranty Description: Parts
Publisher: Engel USA - L&G
Details: Extremely durable Engel fridge/freezer. Every Engel fridge/freezers are capable of keeping contents fresh - or frozen - wherever you roam. Freeze food to last you on long trips, or set the temperature control to keep fresh food and drinks chilled. All Engel fridge/freezers feature the Engel swing Motor compressor. Highly efficient and durable typically drawing about 40% less than a traditional compressor. Engel fridge/freezers run on either a vehicle's battery power 12V/24V DC or 110V/120V AC household power. Whether you're on the road, on the water, or safe at home, you can use your Engel to make life a little easier. Engel fridge/freezers have been in use globally for over 50-years in extreme conditions around the world. Manufacturer's 2-Year warranty included.